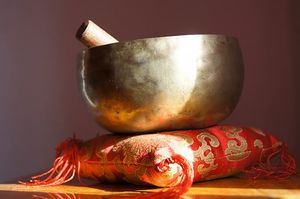 Date:
Monday 21 October 2019 (19:00 -21:00)

Location:
Friend's Meeting House, North Adelaide
Contact person : David Edwards
Recognise suffering
Open House is a gathering that provides a gentle introduction to mindfulness meditation, the Shambhala Buddhist teachings and our community.
It is an opportunity to learn sitting and walking meditation and engage in discussions about the application of teachings to everyday life from fabulous Shambhala teachers including Sakyong Mipham Rinpoche, Chogyam Trungpa Rinpoche and Pema Chodron.
If you are planning to visit Open House for the first time you are invited to arrive 15 minutes early at around 6.45pm to spend time with our meditation guide who will introduce you to meditation practice and Shambhala before the program commences at 7.00pm.
Join us remotely using Zoom
We are exploring the use of Zoom software (like Skype) to allow people to join us remotely. Using Zoom is pretty straight forward, you simply click on this link https://zoom.us/j/671305477 at around 6:45 pm Adelaide time and Zoom will ask you to install some software which will be your interface with the rest of us meeting at the Quakers Meeting Room.
A typical Monday evening program includes:
Brief welcome followed by sitting meditation (7:00pm)

Walking meditation

Sitting meditation

Reading or video teaching...followed by contemplation, response and discussion

Pack-up (8:15pm)

Catch-up time including light refreshments and close around 9:00pm
Tonight's reading from Pema Chodron "Comfortable with uncertainty":
DISAPPOINTMENT, embarrassment, and all the places where we cannot feel good are a sort of death. We've just lost our ground completely; we are unable to hold it together and feel that we're on top of things. Rather than realizing that it takes death for there to be birth, we just fight against the fear of death.
Reaching our limit is not some kind of punishment. It's actually a sign of health that when we meet the place we are about to die, we feel fear and trembling. But usually we don't take it as a message that it's time to stop struggling and look directly at what's threatening us. Things like disappointment and anxiety are messages telling us that we're about to go into unknown territory.
When we get what we don't want, when we don't get what we do want, when we become ill, when we're getting old, when we're dying—when we see any of these things in our lives—we can recognize suffering as suffering. Then we can be curious, notice, and be mindful of our reactions. Our suffering is so grounded in our fear of impermanence. Our pain is so rooted in our lopsided view of reality. Who ever got the idea that we could have pleasure without pain? It's promoted rather widely in this world, and we buy it. But pain and pleasure go together; they are inseparable. They can be celebrated. They are ordinary. Birth is painful and delightful. Death is painful and delightful. Everything that ends is also the beginning of something else. Pain is not a punishment; pleasure is not a reward.