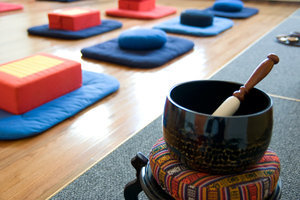 DATE:
Saturday 26 October 2019 (09:30 -16:00)

LOCATION:
Friend's Meeting House, North Adelaide
CONTACT : David Edwards
A full-day of meditation is a great way to explore, deepen and energise your meditation practice in the presence of others. This is true whether you are just starting out or if you are already an experienced meditator.
The day will include periods of sitting meditation interspersed with walking meditation, gentle stretching, and time for some group discussion and reflection. A shared lunch provides the opportunity to continue to explore our discussions informally, enjoy good food or just catch up with your fellow meditators.

We generally start and finish the day with group chanting which lasts for about 10-15 minutes. Chanting is optional, some people like to sit-in with the chanting to experience the energy of the group however, you are also welcome to come in a little later (or leave earlier).

While the full day is best experienced in its entirety we understand that people have busy lives and other commitments so you are welcome to arrive and leave at any time during the day. Some people just come for lunch to enjoy good food and conversation.

Newcomers are welcome. If you have not been to a Shambhala group before please contact us beforehand to chat about meditation instruction.
Join us remotely using Zoom
We are exploring the use of Zoom software (like Skype) to allow people to join us remotely. Using Zoom is pretty straight forward, you simply click on this link at around 9:15 am Adelaide time and Zoom will ask you to install some software which will be your interface with the rest of us meeting at the Quakers Meeting Room.
A typical Saturday program includes:
Morning (9.30 to 12.00)
A short set of traditional group chants (joining in the chants is optional) followed by sitting meditation interspersed with periods of walking meditation. The morning also includes a short group discussion. Participation in the discussion is also optional.

Lunch (12.00 to 1.30)
Please bring a plate of food to share (optional)
Afternoon (1.30 to 4.00)
Sitting meditation interspersed with periods of walking meditation, gentle stretching exercises and closing chants (optional).
There is no fee to participate however a donation of $10 would be gratefully accepted to help cover the cost of room hire, tea, coffee, etc