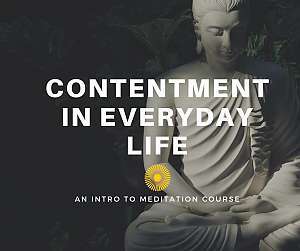 Date:
Thursday 5 September 2019 (18:30 -20:30)
Thursday 12 September 2019 (18:30 -20:30)
Thursday 19 September 2019 (18:30 -20:30)
Thursday 26 September 2019 (18:30 -20:30)
Thursday 3 October 2019 (18:30 -20:30)

Location:
Adelaide Shambhala Meditation Group
Teacher :
Shastri Loretta Geuenich
Coordinator :
David Edwards
Contact person : Rebecca Chapman
Generosity Policy Applies

:
A$
85
This program is being offered in collaboration with the Cancer Care Centre.
Contentment in Everyday Life is a five-week meditation course offering experiential training in contentment and exploration of the obstacles or challenges to experiencing simplicity and nowness. It is based on the premise that we often look for satisfaction outside of ourselves but, when we get what we want, it's not enough and we're off chasing the next thing that might bring us happiness. True contentment is always right here, right now — if we could just learn to relax and tune into it.
Through talks, guided meditation, contemplation, and discussion, we gain an understanding of unconditional contentment and learn to develop gentleness, precision, appreciation, and steadiness. Practicing these qualities in our lives leads to contentment and everyday awake action. Together, we will explore how painful conditions and emotions keep us trapped in habitual patterns, rather than open us to our inherent goodness.
This program is open to everyone, there are no prerequisites. Introductory meditation instruction will be provided.
Class Topics
Class 1: Introducing Contentment: "Friendly to Oneself"
Class 2: Contemplating Contentment: "Nowness"
Class 3: Suffering & The Four Noble Truths: "Meeting Suffering with Gentleness"
Class 4: Working with Emotions & Buddhist Psychology
Class 5: The Confidence of Contentment
Cost and registration: The program cost is $85 ($60 for Cancer Care Centre members). If this cost is a barrier to attending, please email the coordinator: David Edwards, [email protected]
Please register by contacting the Cancer Care Centre
ph: 8272 2411.
If you have any questions about the program please email the assistant director: Rebecca Chapman, [email protected]